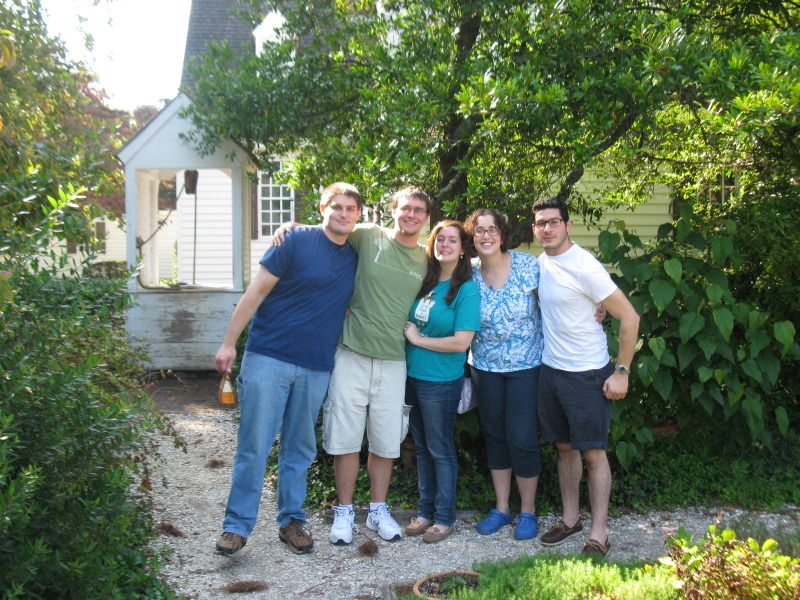 My crazy weekend started Friday night at 1am when everyone arrived! The Hofstra folks were kind enough to pick up at Dave at the airport on their way, and they got to the house around 1. We had all the beds set up, so we crashed.
On Saturday we got up and made a delicious breakfast of pancakes, cinnamon rolls, and tater tots. Then we showered, dressed and headed out to Williamsburg. We went to the cheese shop and chocolate shop and walked around for a bit. We took tons of entertaining pictures as well. At 4pm we dropped Dave at the wedding he was going to and the rest of us went to the movies. We saw "Trouble With the Curve." It was okay - dragged a bit at times.
After the movies we shopped a bit and had some dinner before driving back to the house. Last night we made whoopie pies and watched "Mirror Mirror." A lovely day in all.
This morning we got up and had waffles, cinnamon rolls and tater tots before heading out the Richmond to hang out with Dave before he left. We also got to see Jason for a few minutes before he headed back too. We had dinner, walked around a bit and then everyone headed home.
While it was a crazy weekend, it was great to see everyone :)