November 19th, 2011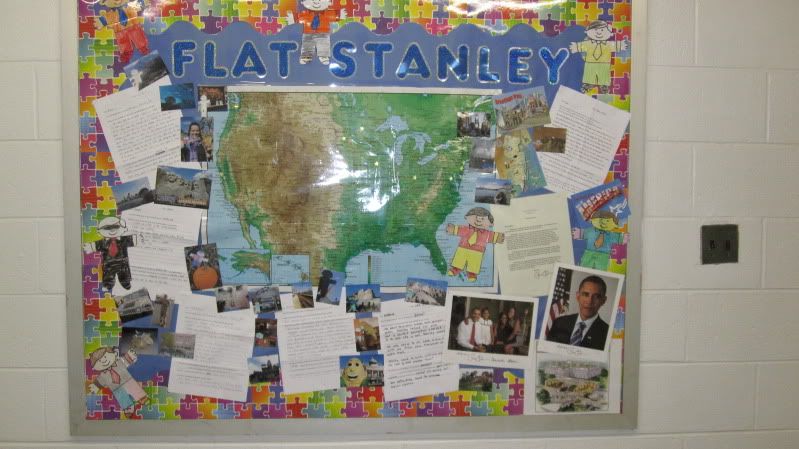 Flat Stanley was a HUGE success! We put up our wonderful bulletin board to share Stanley's adventures with the school!
Mom got tickets to see "An Evening with Patti LuPone and Mandy Patinkin" next week! I'm super excited!
Here are the notes:
Two legendary Broadway stars. A once-in-a-lifetime theatrical event. An Evening with Patti LuPone and Mandy Patinkin reunites these Tony Award®-winning virtuosos (and lifelong friends) for the first time since Evita. Much more than a concert, this is a unique musical love story told entirely through a masterful selection of the greatest songs ever written for the stage. Funny, passionate, intimate and utterly unforgettable, this is An Evening no fan of musical theatre — or two of the most acclaimed performers of our time — can afford to miss. "…this show of their own invention gives them plenty of opportunity to dazzle," raves Lawson Taitte of The Dallas Morning News. "Richard Rodgers and Stephen Sondheim divide the honors as the show's principal composers, though there were tunes by songwriters as diverse as Vernon Duke and Antonio Carlos Jobim. But no melody was sung for its own sake. Everything had a dramatic context, however momentary, and was acted full force. You had to laugh. You had to cry. Mr. Patinkin promised he and Miss LuPone would be doing this show for the rest of their lives. We can only hope so."
The show is choreographed by fellow Broadway veteran and friend, Ann Reinking, who won a Best Choreography Tony Award® for the revival of Chicago. An Evening with Patti LuPone and Mandy Patinkin is accompanied on piano by Mandy Patinkin's longtime pianist, Paul Ford.
http://www.mandypatinkin.org/patti-mandy.htm