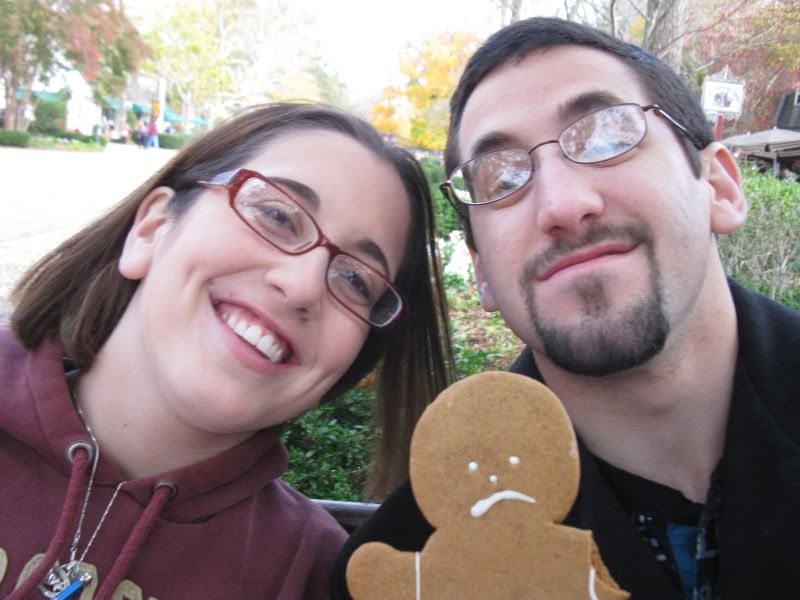 This weekend my long-lost friend, Jason, came to visit! Jason and I met over seven years ago through Dave, but we haven't been able to meet up in person due to our locations. Well, the time has finally come! Jason fly out on Friday and stayed until yesterday and we had lots of adventures!
I picked him up on Friday afternoon and we headed out to the Urbanna Oyster Festival. We basically ate our way through the entire event - from oysters (duh!), to crab soup, to kettle corn, to clams! So much food! But, we enjoyed every bite! We stayed until about 7:30ish - watched a bit of the parade and then headed home.

On Saturday we went out to do some historical stuff. We started in Williamsburg and walked all the way around both the museums and the downtown part. We got lunch at the cheese shop and also went to get some delicious treats from the candy shop. The picture above is the sad gingerbread man that I bought for dessert. Jason really wanted a gingerbread man and there was only one sad one - it needed a good home. All we kept saying was "Not the gumdrop buttons!"

We spent about 3 hours in Williamsburg and then headed over to Jamestown. We started at the back and worked our way forward. All three boats where there (which was cool - I hadn't seen them all) We saw the Native American reserve and the fort as well as walking through the museum. We tried to find President's Park, but no such luck, so we just got some dinner at a delicious seafood place.

On Sunday we went out to Richmond and wandered around before Jason had to catch his plane. A wonderful weekend indeed!