Well, I went home this weekend to celebrate my 25th birthday! And, it was lovely!
I flew home on Thursday night and crashed. On Friday I started my day by going to Hofstra and visiting some lovely people and then finally getting my hair cut (it really needed it!) After a roast beef dinner Mom and I headed into the city to see "The Toxic Avenger" which was interesting. Strange, but fun to watch. I recommend it. We also saw the tree and wandered around looking at holiday windows, which are always fun.
On Saturday Mom and I went shopping for a bit and then I returned and us kids headed to JCPenny to get our picture taken (Mom's holiday gift). It took a bit, but we got some great pictures. We got home and had a birthday dinner of eggplant parm, artichokes, tortellini with pesto, salad and spinach pie. We finished with failure cake (of course!)
In the evening the girls and I headed out to a night on the town and visited the Nutty Irishman and Croxley's. A fun time was had by all!
All in all, a lovely birthday.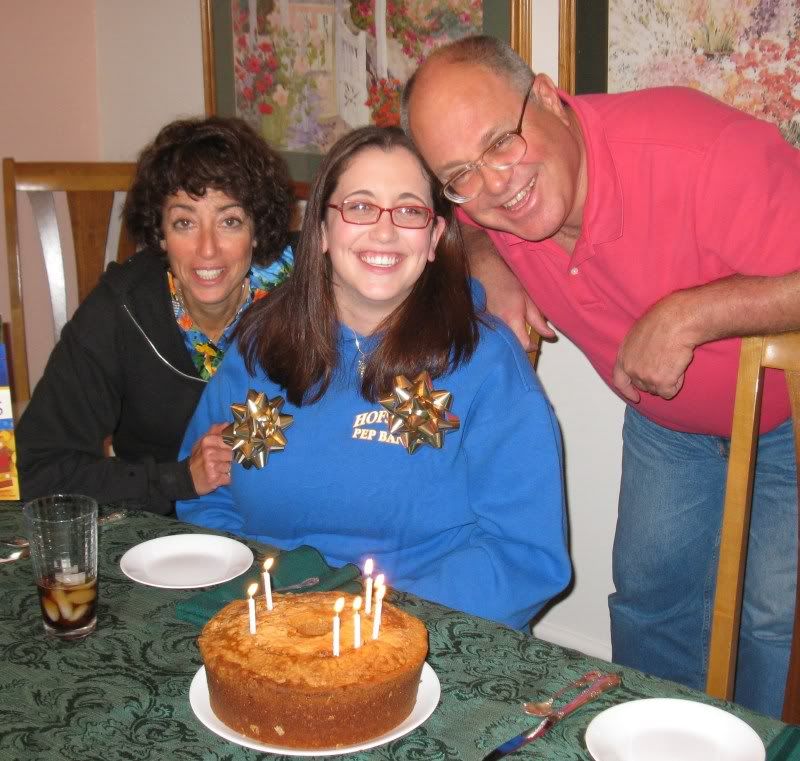 Mom, Me and Dad with my birthday cake :)