Highlights of the weekend/things we learned:
- Vanessa got sick L But, she did come out and be social a little.
- The food was AMAZING! And, there was TONS and TONS of it!
- Haunted Williamsburg walking tour turned out to be 2+ hours and full of random stories including ones about potatoes, Ripley's Believe or Not and pirates. Random.
- Plungers are important to have in your house. Otherwise, you might have to drive to SuperWalmart at 2:30AM on Halloween night to get one.
- Don't light Halloween candles when it's raining.
- Crayons are a girl's best friend!
- Daylight Savings time is rotten. Darkness at 5pm?! What's up with that?
- Always keep plenty of spoons on hand.
- Surgical masks will scare your friends.
- There is no good TV on Halloween night. Surprising, we know.
- Green pasta isn't for everyone (but I love it!)
- Don't forget about the crock pot. There's always something in it.
- It takes 30 days to put up Halloween and 30 minutes to take it down (especially when your roommate feels guilty about leaving you with her friends. She also folds your laundry)
All in all, the Barzakis manor was a success.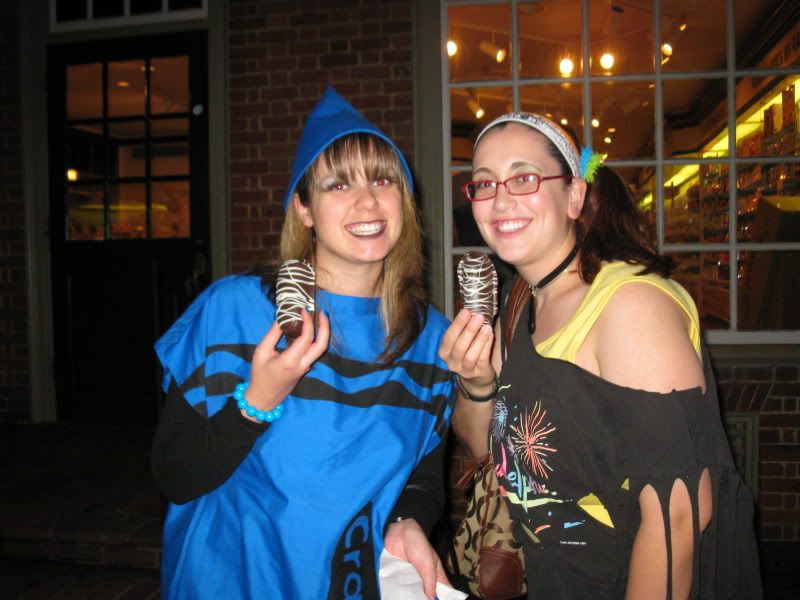 Chocolate covered twinkies in Williamsburg!