Well, Vanessa and I had an interesting weekend in Chestertown. We decided to meet there because it's about 4 - 4 1/2 hours from each of us and a fun meeting point. We got there around 3ish on Friday and first went to check in at the hotel. We stayed at the White Swan on Main Street, which was ehhh.... but anyway, we walked up to the college and looked around. We saw some very interesting things... basically the entire campus is under construction, which will make this summer interesting. The dining hall is a giant shed... really, a giant shed. It was def. an experience to see real people on the campus too.
We took a nice long walk around town and then went to Rockhall for dinner Friday night (Watermans) and then came back and crashed. Saturday we went to the Farmer's Market, shopping, errands around town and then had lunch at the new bakery. (It's the bakery in Galena and they built one in Chestertown). The afternoon was spent sitting by the waterfront and talking about this summer. Saturday night we tried to find another place to eat, but had no luck so we returned to Waterman's. Then we hung out and played some games before going to bed.
Sunday was breakfast and then a stop at the bakery before getting on the road. We both got home around 3ish, which wasn't bad at all. All in all, a successful trip, but this summer will def. be interesting with our lack of facilities.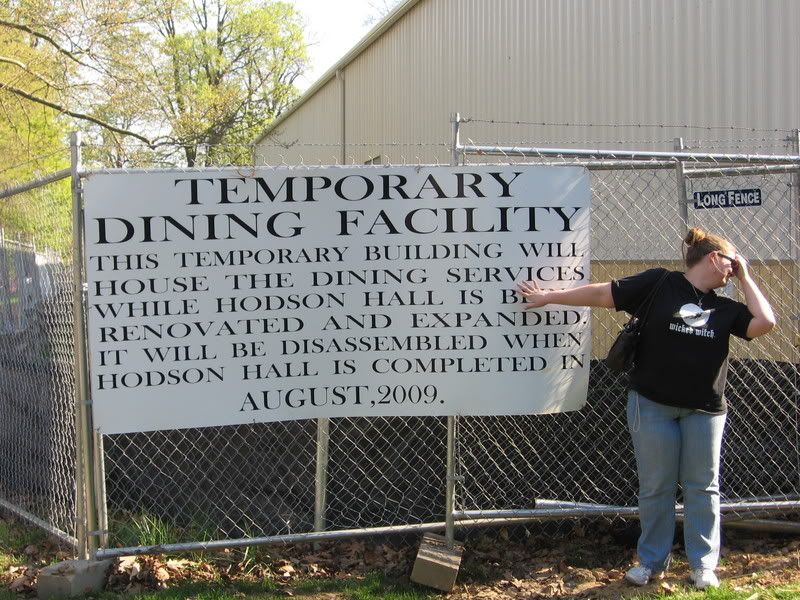 Two summers without a dining hall! Ahhh!