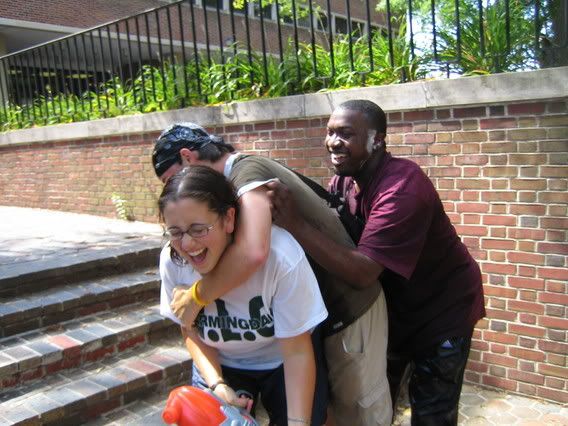 I was attacked by Matt and David!
We got a little wet...
Okay, so it's and I don't have to be asleep right now – why you might ask? Because tomorrow is RA appreciation day! That means that someone else is coming to get our kids in the morning and we get to sleep in! I have nothing to do until tomorrow – it's amazing! I'm so excited!
Well, let's start at the beginning: This morning I woke up at to get Theresa and Michelle up for church. I showered, got dressed and woke up everyone else at for breakfast and headed out. Breakfast wasn't bad, but I was tired. So, we returned, had a quick hall meeting and then spent the morning doing laundry, taking naps, reading and basically being quiet, which was wonderful. Kim left at and at we headed to lunch. After that, the CARNIVAL! J
Vanessa and I were face painting, which was a ton of fun! She did all the real things and I did "abstract fireworks" and snakes. It worked out well though, and the kids had fun. Towards the end though we got the kids to do goofy things for tickets, which led to a massive water fight. (See pictures above) I got really wet… it would have been smart to wear a bathing suit. Oh well, it was a blast. My girls didn't win (THANK GOODNESS! I've been tortured enough!) They tried really hard though, and had fun, so that's all that matters.
So, then we returned to the dorm, showered and changed and hung out for a bit. Around 5:30ish we went to dinner and discovered that there is once again another lacrosse camp here, oh joy. Hopefully they'll leave soon. After dinner we took our yearbook pictures and then we watched a movie. Well, the kids did – I was on the phone for most of it and then working on a cross-word puzzle thingy. Around 8:30PM we returned, signed up for activities next week and got ready for bed. By 9:30PM, all the lights were out and everyone was in their room being quiet… amazing.
Well, it was my night off so Jess and I wandered. First we went to the apartments and said hi. Then we met up with Aaron, Brendan, and Will and drove around for a bit, after we got back to campus we walked into town (we found a new doughnut man! There's more than one!). We looked in store windows, went to the fountain… all kinds of good stuff. Then we went to the 24-hour place, but we didn't have any money, so no ice cream. L We returned to campus and visited the guys (they were at the apartments) and then we wandered back and were looking at pictures from this weekend. A wonderful night out! J