Oh man, today was crazy!
Let's see – after drop off and the RA meeting I spent the morning in the office typing up the Talent Show program (we have about 40 acts – oy! Two intermissions too!) and then filling millions of water balloons for Water Day on Sunday. We all headed over to lunch around and today was Pi day (3.1415…) so three classes of math students were numbered. It was so funny to see! So, after lunch we headed over to the auditorium to see the Elements of Drama class present "Sir Cumference and the Dragon of Pi." It was so cute! (Only twenty minutes too – which is always nice) A very nice play about Sir Cumference turning into a dragon and his son Radius had to figure out how to turn him back before the knights slay him. They had a nice turnout too, which is always good.
So, after lunch Matt H., Matt W., Jess and myself headed back to my dorm and started playing with hair stuff for the "Funky Hair, Funky Dance" tonight. It was so much fun! I put this new dye on my head "Pulse" that worked really well (Kim tried it too – it didn't work as well as we would have thought on her). It's supposed to wash in about 6-8 washes. We spiked Matt W.'s hair and played with Matt H.'s. Jess threw hers up and then we sprayed it different colors and with glitter. It was fun!
Matt and I playing with Matt's spikes... that was harder than it looks.
Success with the spikes! Hotness!
There goes my mess -- it looks orange there, but it turned out reddish.
At that point we were all running late, so I threw stuff in Dad's car, we stopped at the office to get mail, ran to the bookstore and then picked up our kids (They loved our hair!) We had some hall time for them to clean their rooms and a quick hall meeting before dinner and then returned to finish cleaning, have room inspections and get ready for the dance. Kim and I ended up doing most of the girls' hair, which was fun! We did all kinds of strange things, and it looked great!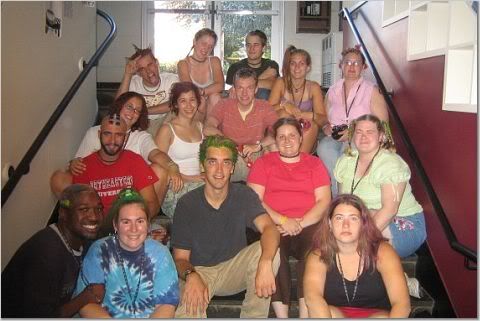 Somewhat group shot at the dance -- look at our funky hair!
The dance was a lot of fun too! Some of the music was a bit questionable and they had a few too many slow songs, but it was all good. Afterwards we can back, made everyone shower, and lights out. I just got back from a somewhat movie night with David, Laura, Nicole and Matt W. It took us a while, but we were watching "Kill Bill 2" downstairs in Hudson until when they had to lock the building. We went to Matt's room to watch for a bit, but we were all too tired to really care.
So, once again here I sit at my computer ready for bed and thinking about what a crazy weekend this will be. Tomorrow we have our Harry Potter trip to Hogsmead and the Talent Show at night. Sunday is Water Day and movie night – craziness indeed!